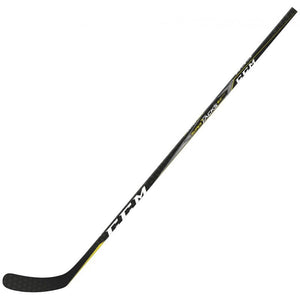 Product Details
Over the past two years, the Tacks line has been proving itself due to its consistent performance. The Super Tacks 2.0 stays true to that while pushing the performance and durability levels further, as a result of the new partnership with Sigmatex, a global leader in performance composite fiber. The kick point has also been improved to give better feel on passes while providing great loading on wrist shots and slap shots. Finally, the blade is extremely stiff allowing players to hit their target more consistently, really improving their shooting accuracy. The new Super Tacks 2.0 redefines what all around performance means.
Kick Point
Responsive Dual Flex Profile - Mid kick point with two optimized loading zones, one for wrist shots and one for slap shots, while making the bottom of the taper a little bit softer for a more responsive feel.
Shaft
Bumper technology with reinforced slash zone - Increase in the strength of the shaft by adding material in the slash zone for uncompromising durability. F-GEOMETRY.
Blade
XX-Stiff Foam Blade - An extremely light blade with great stiffness for great accuracy.
Delivery & Returns
---