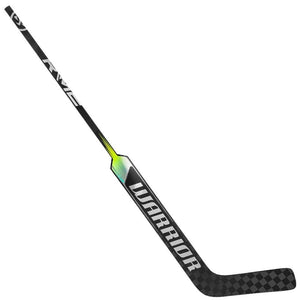 Product Details
The Warrior Ritual M2 Pro+ Goalie Stick is for the elite-level goalie wanting the lightest composite stick with a low kick point and great durability.

Warrior has introduced an all-new carbon material for the M2 line, and the Warrior Ritual M2 Pro+ Senior Goalie Stick is composed of the lightest and strongest of all, the brand new Minimus Carbon 25. The new design is designed to withstand the impact of high velocity shots. Also, this will provide the longest lasting durability keeping the stick feeling fresh over long amounts of time and high usage.
Building off the popularity of the design that started with the M1 line of sticks, Warrior has brought back a couple of key design points; the Warrior Ritual M2 Pro+ has HiFused construction within the paddle to give rigidity and flex when it is needed. On the back of the paddle, a cutout can be found which creates a lightweight build and yet has been strategically reinforced to retain durability. This combination provides a lethal low kick point so goalies can snap off quick outlet passes to teammates or making zone clearing passes.
At the shoulder, Warrior's Slide Grip technology returns, with its strategically placed grip and raised grid textures to provide grip where the goalie wants it, without restricting movement.
Delivery & Returns
---