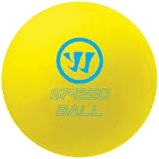 Product Details
When you're winding up for a big shot in mini hockey, you might find it was all for nothing when the ball just skids across the carpet at a low speed. That's because many balls are not built for speed, the warrior Mini Speed Ball changes all of that.
Complete with a slick outer surface coating that helps the ball slide on the carpet, quick stick-handling and lightning-fast release are now possible in mini games.
The speed layer helps the ball consistently fly through the air better and the soft foam inner core protects your face from injury if hit. The Super Bright Optic-Yellow finish also enhances ball vision at super high speeds.
Delivery & Returns
---