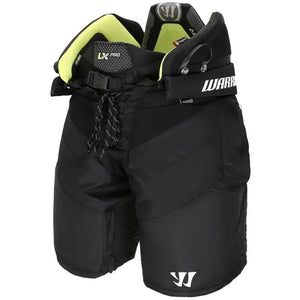 Product Details
Adding to their popular Alpha LX protective line, Warrior hockey is releasing the Alpha LX Pro Senior Hockey Pants. With Alpha pro fit, adjustable leg extensions, and Impax foams throughout, the Alpha LX Pro pants are form fitting with maximum mobility and protection.
Starting off with the fit type, the Alpha LX Pro Hockey Pants will have a minimalist form fitting style that allows you to remain quick and agile. The alpha pro fit is a tailored pro fit that follows natural skating posture. The pants will have a new anatomical fit thigh pad designed to provide maximum mobility and protection. Helping to get the most out of the fit will be the adjustable leg extension. This is a zippered gusset that allows for a 1" leg extension to help you achieve the best fit possible.
The Alpha LX Pro Hockey Pants also feature pro-level protection thanks to the incorporation of Impax foam. The lower pant is separated from the Impax foam spine and molded kidney pads with a floating internal belt. This allows the spine and kidney protection to move with you as you skate and pivot in play. Impax foam has been added to the hip of the pant and combines maximum protection with maximum comfort.
Holding everything together is the Minimus outer shell. This mix of premium denier nylon weaves has been designed with mobility, durability, and flexibility in mind, giving players further enhanced performance without sacrificing high-end durability against cuts and tears.
Moving to the interior, the Alpha LX Pro Hockey Pants utilize Warrior's Wartech FNC liner. This liner helps improve airflow keeping players cool and dry throughout gameplay. The Polygiene material within the liner works to combat odors and bacteria, keeping the pants fresh and clean.
If you are a high-level player looking for a pant that excels in mobility, fit, and protection, check out the Warrior Alpha LX Pro Senior Hockey Pants!
Delivery & Returns
---