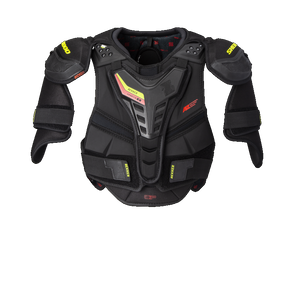 Product Details
The Sherwood REKKER Legend 1 anatomically fitting shoulder pads offer 360 protection.
Viconic: Viconic Impact Protection is placed in key impact areas in the collar bone and rib wrap, enabling you to keep battling in tight spaces..
CiP: Customizable Impact Protection (CIP) provides the player with a customizable,
adaptable fit, and protection level.
COP-R29: Anti-microbial liner that is scientifically proven to reduce bacteria and microbe causing odor.
AIZ: Anatomically Isolated Zones (AIZ) provide a combination of mobility and 360 degree protection.
2DC Dual Density Cap: Blow molding and compression forming are used to form low
and high density foams into a singular shoulder cap that provides protection for all levels of impact.
Features:
• Anatomical Fit
• 2DC (Dual density) multi-step and multi-material shoulder cap
Delivery & Returns
---