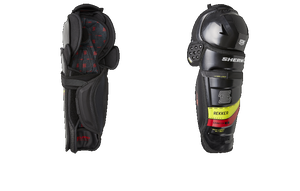 Product Details
Viconic: Viconic Impact Protection is placed in key impact areas in the knee joint and shot blocker.
CiP: Customizable Impact Protection (CIP) is featured in the removable thigh guard and removable liner.
COP-R29: Anti-microbial liner that is scientifically proven to reduce bacteria and microbe causing odor.
AIZ: Anatomically Isolated Zones (AIZ) in the calf area creates 360 degree  protection whether you are moving at full speed or making quick cuts.
iO Guard: Reduces abrasion of the comfort liner by the skate when the player goes "tongues in." When the player goes "tongues out" the liner is removed from the pocket and the comfort liner goes directly against the leg.
Features:
• Anatomical Fit
• I/O Guard-Sleeve to aid in abrasion of the liner
• Grip Print on 3D Formed removable liner
Delivery & Returns
---