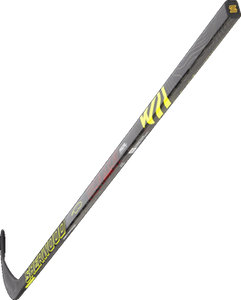 Product Details
Features:
DuoFire kick point - New ERGO TAPER SHAFT featuring low kickpoint with secondary flex zone allows players to load and fire shots like never before.
BlacklineXXV - 25,000 filaments in a square inch of carbon fiber creating a super strong and flexible weave which enhances durability.
Pyrofil Carbon Fiber by Mitsubishi - Revolutionary, lightweight carbon fibre created by Mitsubishi that greatly enhances durability and feel.
ETS Ergo Taper shaft shape - allows the stick to sit in the player's hands more comfortably giving them better control for dangling past opponents.
Featherlite XT - A precision measured handmade layup process creating the perfect balance point to maximize power, weight and feel - reduces unneeded weight in the blade and lower shaft to create the optimal balance point.
Delivery & Returns
---