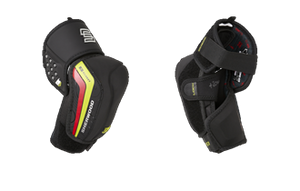 Product Details
The Sherwood REKKER Legend 1 elbow pad provides 360 degree protection while
offering maximum comfort and fit.
Viconic: Viconic Impact Protection is located in the joint and on the bicep, providing protection while fighting along the boards.
CiP: Customizable Impact Protection (CIP) provides the player with a customizable,
adaptable fit, and protection level.
COP-R29: Anti-microbial liner that is scientifically proven to reduce bacteria and microbe causing odor.
AIZ: Anatomically Isolated Zones (AIZ) on the forearm, combined with the stretch gusset between the cap and liner and CIP bicep keeps the player protected without
limiting motion of hindering fit.
Features:
• Anatomical Fit
• Stretch gusset allows for a greater range of motion, while keeping the cap and padding in place
• Grip print on liner
Delivery & Returns
---