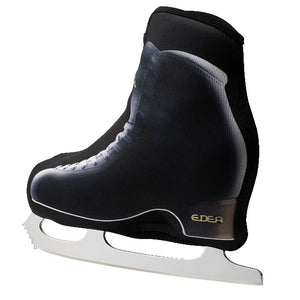 Product Details
Edea boot covers are made of 100% neoprene to provide maximum thermal insulation.
The front zipper allows the skater to put the boot on and take it off easily, without having to remove the cover every time.
The upper part is higher than the boot, so that it seals the leg in and stops moisture from getting in.
The edge of the underside of the cover features Velcro inserts that means it can close tightly. This prevents cold and moisture rising up from the rink into the boot.
These are hand wash only.
Color: Black
> 235 fits sizes 225 – 230 – 235
> 250 fits sizes 240 – 245 – 250
> 265 fits sizes 255 – 260 – 265
> 280 fits sizes 270 – 275 – 280
> 295 fits sizes 285 – 290 – 295
> 300 fits sizes 300 – 305 – 310
Delivery & Returns
---