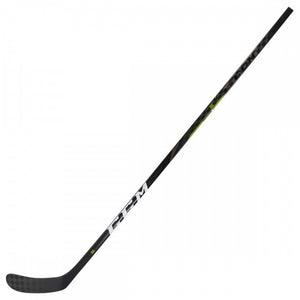 Product Details
Starting with the overall look of the CCM RibCor Trigger 3 Hockey Stick, it has changed from the previous generation. At the top of the stick, CCM has switched from silver lettering and now ghosted their logo on both sides to give a sleek look. Moving down, CCM kept the blacked-out lettering for the RibCor logo with a green bar coupled with a Trigger 3 logo. Towards the bottom of the shaft, CCM stuck with their larger wordmark and used a bold white design.
CCM has gone with their standard grip for this stick. It is the perfect balance of being able to have good control of the stick at all times, but also easy enough to where you can take one hand on and off with ease. Continued from the previous generation, the CCM RibCor Trigger 3 Senior Stick has kept the same ribbed feel, but it has been moved down to where your bottom hand would go to create a better feel and grip on the stick.
For this year's iteration, Pop-Matrix technology is still used; however there is a new design which allows for better energy transfer, efficiency and a quicker release. Pairing this technology with the Ascent 3 blade, it ensures ultimate feel and control of the puck.
Another addition to the CCM RibCor Trigger 3D Senior Stick is the addition of X-Flow Technology. This new technology is a molding process that removes any excess resin and voids within the stick to increase shaft quality, consistency, and durability all while reducing the overall weight of the stick. On top of that, the CCM RibCor Trigger 3D Senior Stick features an improved version of the Sigmatex material, making the 3D lighter, stronger, and more durable.
The kickpoint for the CCM RibCor Trigger 3 Senior Hockey Stick has remained the same as its predecessor; stiff at the mid-point of the shaft with a gradual decrease in stiffness moving toward the bottom to enable maximum ease of loading on shots and the quickest possible releases. This stick is perfect for players who take most of their shots either right outside the crease or at the hashmarks.
Compared to the CCM Ribcor PRO3, the RibCor Trigger 3 Senior Hockey Stick features a more advanced blade in the Ascent 3, and the addition of the Sigmatex material making this top of the line iteration both lighter and stronger.
With the addition of the new X-Flow Technology paired with the revamped Pop-Matrix Technology, the Trigger 3 is CCM's most advanced stick to date. If you are looking for the best possible shot, then the CCM RibCor Trigger 3 Grip Senior Hockey Stick is for you!
Delivery & Returns
---