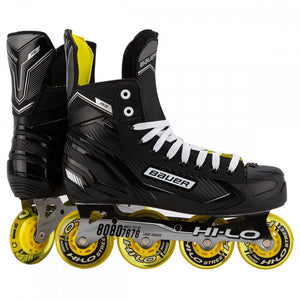 Product Details
New for the 2019 season, are the Bauer RS Senior Street Hockey Skates. Whether you are a new player or a casual player, these skates are a great option as they offer a few high-end features without breaking the bank.

Jumping right into the construction, Bauer used an injected composite weaved quarter package, providing players with a high level of protection without the additional weight. Moving to the tongue, Bauer incorporated a two-piece felt tongue with inserts, which features an anatomical fit, providing high end mobility.
On the interior, Bauer used their microfiber liner, which helps wick away any moisture keeping your feel dry and giving you maximum control in each stride. This liner is also thermoformable, meaning you can bake these skates, giving you a form fitting skate and eliminating any negative space within the boot.
Moving to the bottom half of the RS Senior Roller Hockey Skates, Bauer went with the Hi-Lo Ventilator steel chassis, with Hi-LO Street wheels and Hi-LO ABEC 5 bearings, to provide you with good balance, control, and added durability.
If you are a player looking to get the most out of your roller hockey playing experience, from right out of the box, look no further than the Bauer RS Senior Roller Hockey Skates!

Delivery & Returns
---