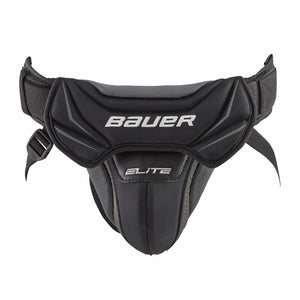 Product Details
The Bauer Elite Goalie Jill utilizes thick dense foam and molded plastic to protect the body's most sensitive area. Along the waistband is additional high-density foam to extend body coverage while soft foam throughout the Thermo Max+ liner ensures a comfortable fit all game long.

Bauer's Thermo Max+ Liner is a pro at handling sweat and moisture by wicking it away from the body. It also reduces the growth of odor-causing bacteria, keeping the Elite Jill smelling fresh for a lot longer.

Finally, the Jill is built with excellent adjustability, allowing for a wide range of fit. The waistband utilizes a large Velcro strap while the elastic leg harness has a point of adjustment so the Jill stays locked and secure.
Delivery & Returns
---